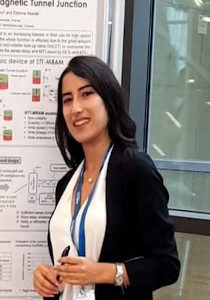 On Friday 11th of October at 10h00 Rana ALHALABI, will defend her thesis, jointly carried out by LETI/DCOS/SCME/LCM and SPINTEC, entitled :
« Conception innovante de circuits logiques et mémoires en technologie CMOS/Magnétique »
Place : CEA 17 rue des Martyrs, bat 1005 room 445 (persons who do not have a CEA badge must request an entry authorization sufficiently in advance, before October 1ST at sabrina.megias@cea.fr or gregory.dipendina@cea.fr
Abstract :
After many studies in recent decades, emerging technologies nonvolatile memories are finally taking hold in the semiconductor market.
Their main objective is to replace flash memories and DRAM, which are facing limitations in terms of density, miniaturization, consumption and speed improvement. Among the emerging technologies, the magnetic memory MRAM has gained a lot of attention from the industry as an excellent candidate for the future nonvolatile memory market. Its performance allows integrating this memory into full custom and digital design flows. This would improve certain performances either at the elementary cell level or at the architectural level.
Hence, we propose in the first part, the conception of CMOS / magnetic hybrid circuits of the type LUT (Look Up Table) in STT-MRAM (Spin Transfer Torque) technology with the aim of realizing a demonstrator and testing it later. The full custom design involving a breadth of innovative LUTs has been implemented.
We propose in the second part, the design of an embedded memory in SOT (Spin Orbit Torque) technology, for which a patent for has been filed.
Finally, both the SOT-MRAM and STT-MRAM have been integrated in a processor in order to evaluate the utility of these magnetic technologies in such circuits for widespread use.
Résumé :
Après de nombreuses études au cours des dernières décennies, les technologies émergentes de mémoires non volatiles décollent enfin dans le marché des semi-conducteurs.
Elles ont comme objectif principal de prendre le relais des mémoires flash et DRAM qui touchent à leurs limites en termes de densité, de miniaturisation, de consommation ou d'amélioration de la vitesse.
Parmi les technologies émergentes, la mémoire magnétique MRAM attire l'attention de l'industrie comme un excellent candidat pour la future mémoire non-volatile.
Ses atouts permettent d'intégrer cette mémoire dans des flots de conception full custom et numérique afin d'améliorer certaines performances soit au niveau cellule élémentaire soit au niveau architecture.
C'est pourquoi nous proposons dans une première partie la conception de circuits hybrides CMOS/magnétique de type LUT (Look Up Table) en technologie STT-MRAM (Spin Transfer Torque) ayant pour but de réaliser un démonstrateur et de le tester par la suite.
La conception full custom de A à Z de LUT innovantes a été mise en oeuvre.
Nous proposons dans la deuxième partie la conception d'une mémoire embarquée en technologie SOT (Spin Orbit Torque), pour laquelle un brevet d'invention a été déposé.
Enfin, dans la dernière partie, ce type de mémoire SOT-MRAM ainsi que d'autres de type STT-MRAM ont été intégrées dans un processeur afin d'évaluer les éventuels intérêts de ces technologies magnétiques STT et SOT dans ce type de circuit largement répandus.