Overview
Our team aims at manipulating spins currents in nanostructures, in particular in quantum materials with Dirac fermions, such as topological insulators or Weyl semimetals, or at oxide interfaces. Some important aspects of future spintronics devices, such as the efficient spin-charge interconversion at interfaces or the ballistic transport of spin states for quantum interconnects, are studied by magneto-transport measurements.
Research topics
Spin-Charge interconversion by spin Hall effect or Rashba-Edelstein effect, in metals, semiconductors, topological insulators and 2-dimensional electron gas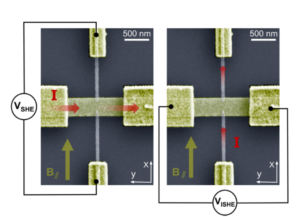 Control of domain walls and magnetization using spin currents and the spin-orbit coupling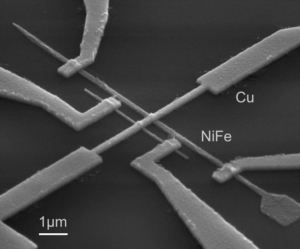 Ballistic helical spin currents in a monocrystalline 3D topological insulator quantum wire, inducing conductance oscillations due to coherent Dirac surface states (Aharonov-Bohm quantum interferences).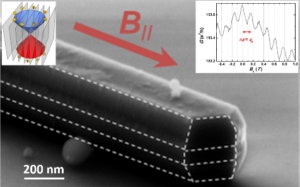 The team
Former members
Post-docs
Yu FU (2015-2016)
Juan Carlos ROJAS SANCHEZ (2010-2013)
Yu FU (2015-2016, 2018-2019)
PhDs
Andrei Mihai (2006-2009)
Van Dai Nguyen (2009-2012)
Piotr Laczkowski (2009-2012)
Williams Savero-Torres (2011-2014)
Pham Van Tuong (2014–2017)
Gilles ZHAND (2014-2017)
Toshiki Gushi (2016-2019)
Paul Noël (2016-2019)
Paul NOEL (2016-2019)
Internships
Williams Savero-Torres (2011)
Gilles Zahnd (2014)
Paul Noël (2016)
Maxen Cosset-Cheneau (2018)
Timothé Faivre (2009)
Hélène Durand (2005)
Andrei Mihai (2006)
Carl Naylor (2011)
Quentin Thiburce (2013)
Clément Nguyen (2013)
Sarah Ferry (2009)
Cédric Mannequin (2008)
Quentin Riffard (2010)
Willy Lim (2016)
Matthieu Praquin (2018)
Marie-Paule Okinda (2020)
Visitors
Projects
ANR Contrabass (2020-2023)
ITN H2020 Spears (2021-2024)
ANR Oiso (2017-2021)
ISP Idex UGA DOMINO (2018-2021)
FET Proactive H2020 Tocha (2019-2023)
IRS Idex UGA (2017-2020)
Partners
Tsukuba University (Japan)
Unité mixte de Physique CNRS/Thalès (Orsay)
Néel Institute (Grenoble)
Leti (Grenoble)
Institut Jean Lamour (Nancy)
Leibniz Institute IFW (Dresden)
Technical University (Dresden)
Recent news
Publications