In the field of spintronics, ferromagnetic/non-magnetic metallic multilayers are core building blocks for emerging technologies.
Resonance experiments using stripline transducers are commonly used to characterize and engineer these stacks for applications.
Here, we investigated the incompletely understood impact of eddy currents below the microwave magnetic skin-depth and explained the lineshape asymmetry and phase lags reported in stripline experiments.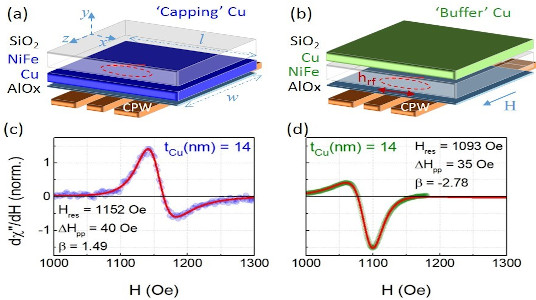 Illustration of the stacking order-dependent sign-change of microwave phase due to eddy currents in nanometer-scale NiFe/Cu heterostructures
In ferromagnetic resonance (FMR) experiments, eddy currents need to be carefully considered to accurately determine damping and other related spintronic properties such as spin-mixing conductance and the spin-Hall angle in spin-pumping experiments, especially when characterizing low-damping materials.
This type of effect has been thoroughly studied for film thicknesses above the skin-depth limit.
In contrast, below this limit, the effects of eddy currents were most often neglected, except for series of comprehensive studies focused on microwave screening/shielding in ferromagnetic/non-magnetic(F/NM) metallic multilayers.
Using a coplanar stripline transducer, we investigated experimentally the broadband FMR response of few nanometer-thick NiFe/Cu and Cu/NiFe bilayers.
The main contribution of our study is that it represents systematic experimental evidence of a stacking-order-dependent sign-change of the microwave phase.
The effect could be ascribed to eddy currents generated in the Cu layer in the sub-skin-depth regime by the time varying magnetic fields in the experiment. Distinct sets of experimental data – layer thickness-, frequency- and size- dependences, were consistent with a simple quantitative analysis encompassing the main features of the phenomenon. Remarkably, the model could account for the difference in the thickness-dependence of Cu-resistivity due to the inversion of the growth order.
These results contribute to our understanding of the impact of eddy currents below the microwave magnetic skin-depth and explain the contributions to lineshape asymmetry reported in stripline experiments.
They also provide a straightforward way to detect the contributions of eddy currents from NM-adjacent conductors, as a caveat for the need in some cases to take these contributions into account.
Team(s):Antiferromagnetic spintronics, Microwave devices
Funding: ANR-15-CE24-0015-01, OSR-2015-CRG4-2626
Further reading: Stacking order-dependent sign-change of microwave phase due to eddy currents in nanometer-scale NiFe/Cu heterostructures, O. Gladii, R. L. Seeger, L. Frangou, G. Forestier, U. Ebels, S. Auffret, V. Baltz, Appl. Phys. Lett. 115, 032403 (2019); DOI: 10.1063/1.5093150
Contact: vincent.baltz@cea.fr