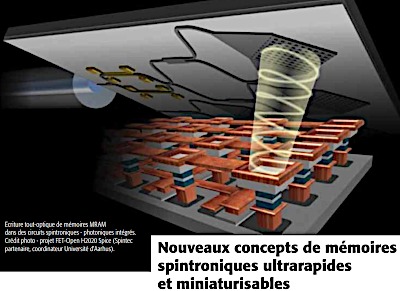 The journal of the French Society for electricity, electronics and information technologies (Société de l'électricité, de l'électronique et des technologies de l'information et de la communication) dedicated a special issue to Electronics of the future (in French).
Lucian Prejbeanu and Bernard Diény, from SPINTEC, authored an article on new concepts of ultrafast and highly scalable magnetic memories.
French: La mémoire type RAM magnétique (MRAM) est considérée comme un dispositif de remplacement crédible par rapport aux technologies de mémoire existantes pour les applications où la combinaison de la non-volatilité, de la vitesse et de l'endurance est essentielle. Le présent article dresse un panorama des développements récents sur de nouvelles approches de MRAM ultrarapides et minaturisables faisant appel à la spintronique.