IEDM is the main annual conference of the IEEE Electron Devices Society. It took place in San Francisco, 4-6 December 2017. Since 2016, IEEE EDS and IEEE Magnetics Society have been collaborating on the organization of joint events gathering experts in microelectronics and magnetism. With the rising interest of the microelectronics industry for the emerging MRAM technology, it is important to strengthen the links between these two societies. Indeed, the MRAM technology emerged from major breakthroughs discoveries realized within the spinelectronic community, initially not connected with the microelectronics community. Nowadays, the development of MRAM really requires joint concerted efforts from both microelectronics and magnetism experts. This is why two MRAM related special events were organized by the IEEE Magnetics Society in the frame of IEDM 2017.
The first event was a MRAM poster session where 35 posters were presented covering various topics such as MRAM materials, spintronics phenomena involved in MRAM technology, MRAM fabrication and testing, low power circuits architecture benefiting from the non-volatility of MRAM, spin-logic, etc. The poster session was highly visible since it took place in the exhibit area of IEDM (which is also coffee break area). ~300 IEDM attendees came and interacted with the posters presenters with quite vivid discussions.
The second event was the 9th MRAM Global Innovation Forum. This Forum was the 9th edition of a series initiated by Samsung Semiconductor about 4 years ago. These events are sponsored by Samsung Semiconductor. This edition gathered 285 attendees among whom 230 came from industry. This demonstrates the very strong industrial interest for MRAM. The Forum consisted of 10 invited talks, mostly from industry, and a panel discussion on "PCRAM, ReRAM, MRAM, competing or complementary technologies". Three major foundries (Samsung, TSMC and Global Foundries) all announced the ramp up towards volume production of eMRAM in 2018.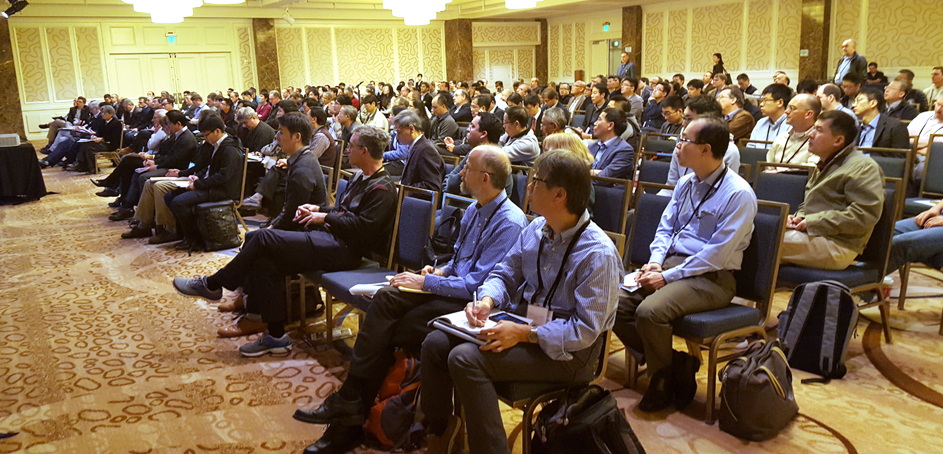 The launch of MRAM volume production after more than 20 years of research and development is extremely rewarding for all those who have been working in this area for so many years. We are convinced that this is only the entry point of spinelectronics in microelectronics. Lot of other breakthrough discoveries have been made in the past ten years such as spin-orbit torques, voltage control of magnetic properties or interconversion between charge and spin currents by taking advantage of spin-orbit effects. They all open new perspectives of applications for ultralow power circuits. These phenomena enable to conceive devices and circuits which can be extremely useful in the rapidly expending field of Internet of Things but also for all wearable applications as well as to reduce power consumption in server farms or for power management in high performance computing.
These two events will be again organized next year at IEDM 2018.
Bernard DIENY
Chairman of 9th MRAM Global Innovation Forum