Overview
We are interested in novel spin textures, such as magnetic skyrmions and Bloch-point domain walls, which can be topologically-protected. These involve the three components of magnetization and/or three-dimensional distributions of magnetization. We design the systems, image the spin textures, and ultimately aim at addressing these with spin-polarized currents. The applied background includes the proposed concept of 3D race-track memory.
Research topics
Physics of spin textures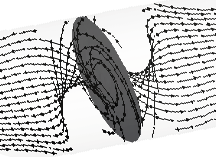 We aim at investigating the dynamics of motion of 3D spin textures under magnetic field or spin-polarized current. Checking the strength of topological protection against their transformation or annihilation is a major goal. We combine material synthesis, experimental investigations, and micromagnetic modelling.
Material development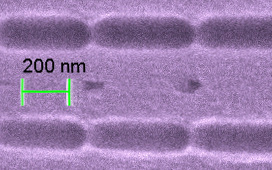 Special samples need to be designed and synthesized to stabilize 3D spin textures. This involves both multilayer physical deposition, and bottom-up synthesis of nanowires and nanotubes with chemical means.
Advanced magnetic imaging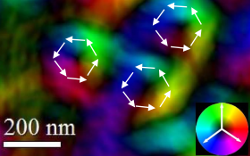 Magnetic imaging 3D spin textures is demanding in terms of spatial resolution, bulk/surface and multi-components sensitivity. We are developing expertise in various techniques both in the lab and at external facilities.
The team
Permanent staff

Olivier FRUCHART
olivier.fruchart@cea.fr

Patrick WARIN
patrick.warin@cea.fr
Post-docs
Sylvain MARTIN (2016-2018)
PhD
Chloé BOUARD (2015-2018)
Michal STANO (2014-2017). Joint with Institut NEEL.
Beatrix TRAPP (2015-2018). Joint with Institut NEEL.
Alexis WARTELLE (2013-2017). Joint with Institut NEEL.
Projects
Partners
Recent news

Seminar : Advanced fabrication and characterisation of three-dimensional magnetic nanowires for applications in spintronics (August 31st, 2017)
On september, 21, we have the pleasure to welcome Amalio Fernández-Pacheco from Cavendish Laboratory, University of Cambridge in Spintec. At 11H, in room 434 A, he will give a seminar entitled "Advanced fabrication and characterisation of ...
Review – Three-dimensional nanomagnetism (April 20th, 2017)
Amalio Fernandez-Pacheco, Robert Streubel, Olivier Fruchart, Riccardo Hertel, Peter Fischer, Russell P. Cowburn, Nature Comm. 8, 15756 (2017) Magnetic nanostructures are being developed for use in many aspects of our daily life, spanning areas such as ...
Proposals for student internships for Spring 2017 (November 26th, 2016)
You find here the list of proposals for Master-2 internships to take place during Spring 2017. In most cases, these internships are intended to be suitable for a longer-term PhD work. You may either download the ...
Publications