Overview
Microwave oscillations of the magnetization around its equilibrium are the natural dynamical response to external perturbations (e.g. thermal fluctuations, microwave fields). This offers the promise for a new class of microwave devices, benefiting from their small foot-print, their ability to be controlled electrically, and their integrability with CMOS technology. Identified devices include local oscillators, microwave filters, detectors, and non-reciprocal devices. Understanding the dynamics of these nano-objects, applying general concepts of microwave oscillator techniques and defining from this novel microwave applications is the major aim of this activity.
Research directions
Magnonics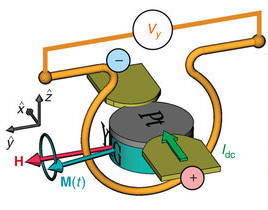 Magnons are the quasi-particles associated to the collective excitations of spins. Mode engineering and transfer of angular momentum by magnonics current are some of our key ongoing research activities.
The team
Former members
Post-docs
PhD
Nicolas Thiery
Alumni : Kyota Watanabe (GP-Spin program)
Visitors
W.E. Bailey – Columbia University (2009, 2010, 2011, 2012), A. N. Slavin – Oakland University (2012, 2013), V. Naletov (2016)
Recent news
Nonlinear properties of pure spin conductors (June 21st, 2018)
N. Thiery, A. Draveny, V. V. Naletov, L. Vila, J. P. Attané, C. Beigné, G. de Loubens, M. Viret, N. Beaulieu, J. Ben Youssef, V. E. Demidov, S. O. Demokritov, A. N. Slavin, V. S. ...
Seminar : Spintronics with Ferroelectrics (June 21st, 2017)
On June 27 at 11h Prof. Evgeny Tsymbal from University of Nebraska will give a talk entitled "Spintronics with Ferroelectrics" Place : l'amphithéâtre Laurent Puech (2-D-004) in GreEN-ER building "Spintronics with Ferroelectrics" Ferroelectric materials are characterized ...
Master students to visit SPINTEC and discuss our topics for internships (September 18th, 2016)
On 25th October 2016 our host Institut INAC welcomes students for a presentation of internship topics proposed to host Master-2 students during Spring 2017. Details will be provided later.
Publications