Overview
The team is dedicated to the evaluation of the benefits of using magnetic devices in Integrated Circuits (ICs). It is expected that integrating non-volatility in ICs could contribute to push forward the incoming limits in the microelectronics scaling. This work includes integrating the magnetic devices in standard design tools, design hybrid circuits and evaluate their performance for various applications.
Research topics
Hybrid CMOS/Magnetic design flow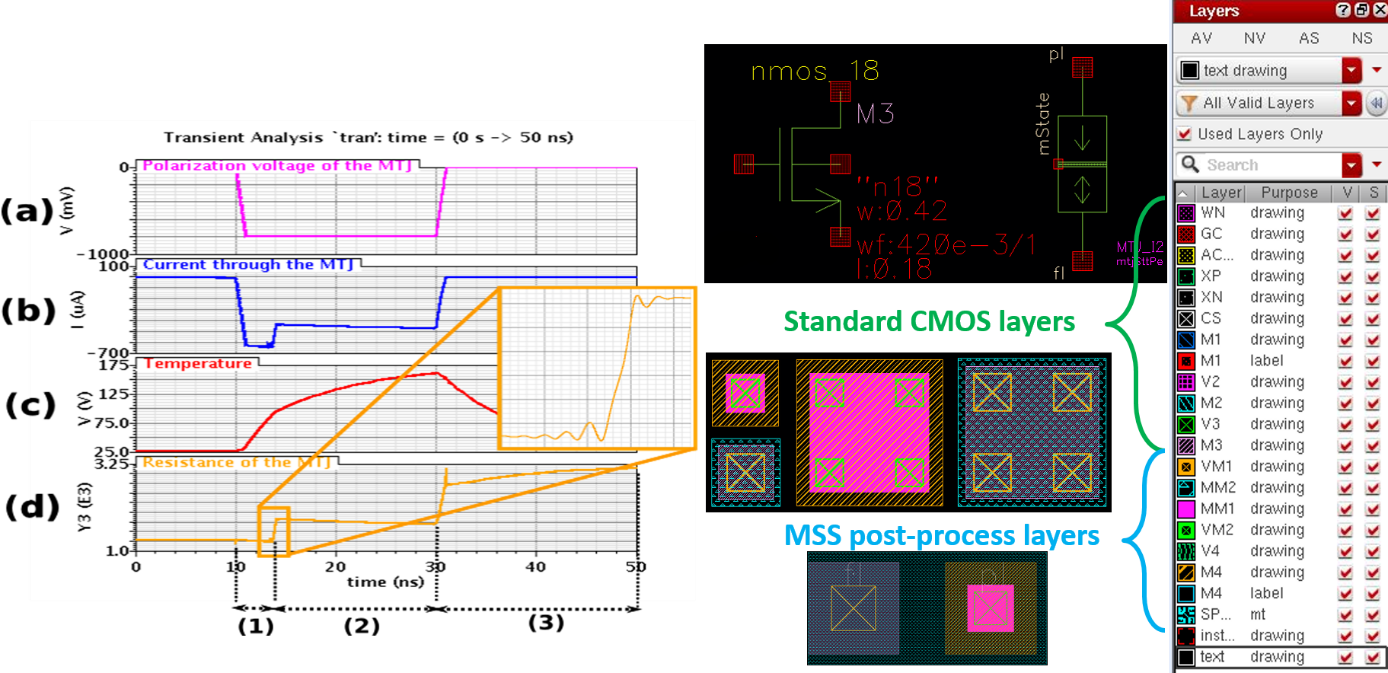 Designing hybrid circuits requires integrating the magnetic devices in the standard design flow of microelectronics. This includes compacts models for electrical simulations, technology files including the magnetic back-end and libraries of Standard Cells for digital design.
Low-power logic circuits

One issue related to microelectronics scaling is the increasing standby power, due to leakage currents. Introducing non-volatility in circuits allows easing the power gating technique, which consists in cutting-off the power supply of inactive blocks to save leakage.
Hardware security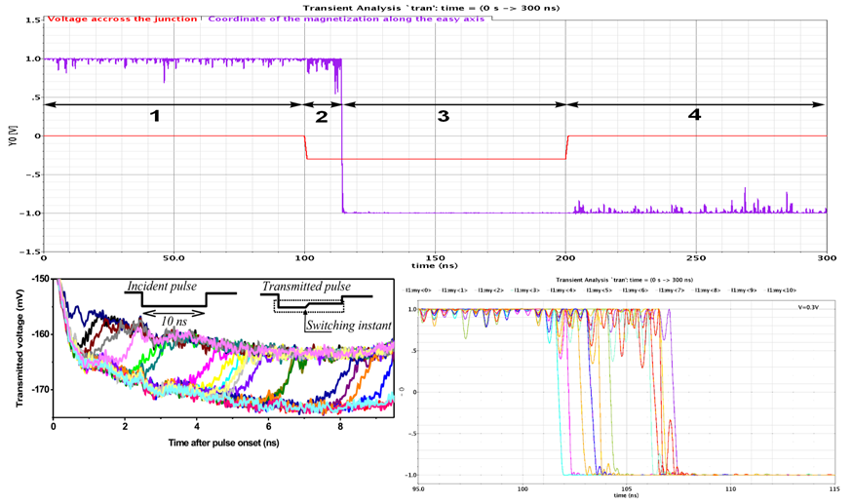 While STT MRAM can be beneficial for hardware security (taking advantage of its stochastic behavior for cryptography for instance), it also presents some specific failures mechanisms that has to be studied to take the appropriate countermeasures.
Radiation hardening for space applications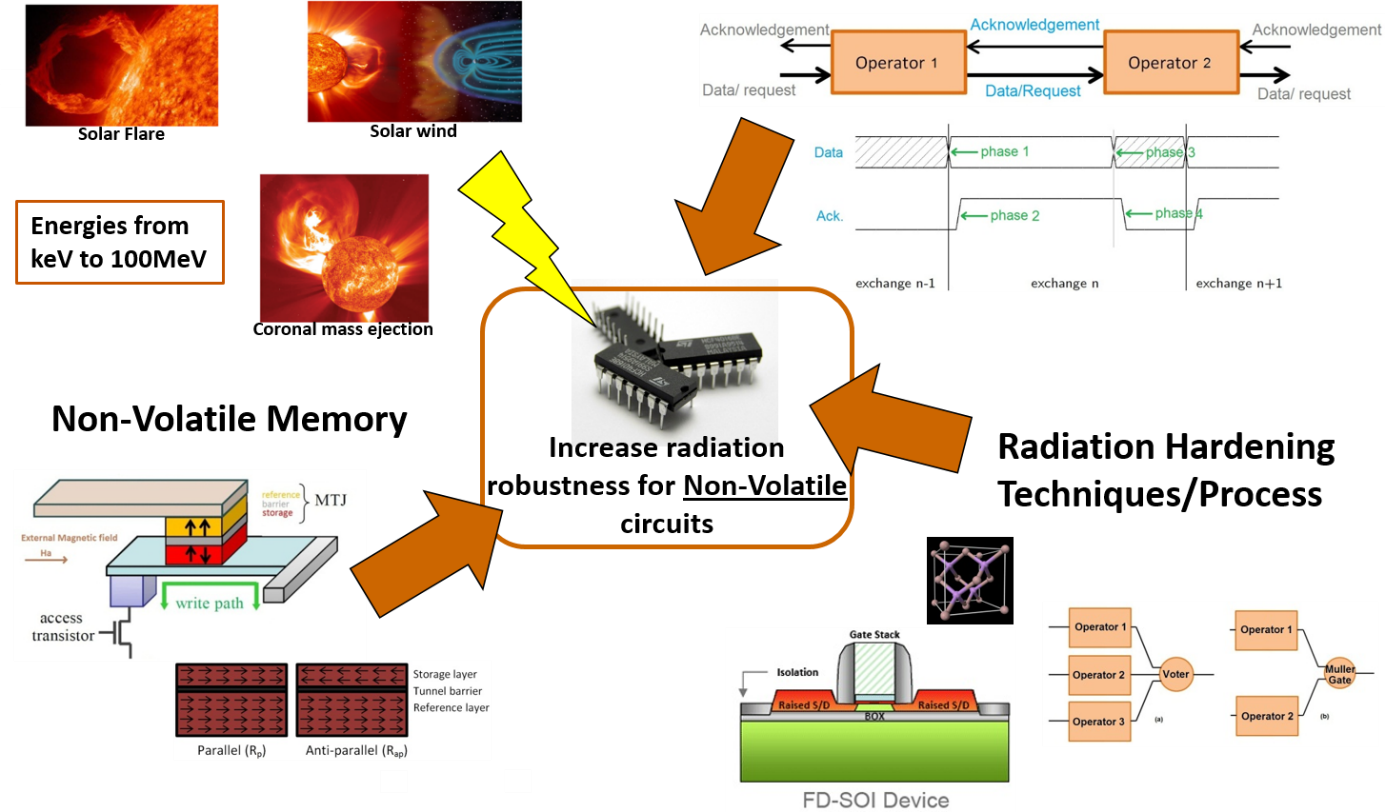 The intrinsic hardness to radiations of the magnetic devices make them a good candidate to be embedded in circuits for space applications. It can be advantageously combined with other hardening technologies or design techniques.
The team
Former members
Permanent Staff
Christophe LAYER : Research scientist
François DUHEM: Research scientist
Engineers
Stephane

GROS (2013-2014)

Pierre PAOLI

(2013-2014)
Post-docs
Pierre

VANHAUWAERT (2014-2017)
Eldar ZIANBETOV (2014-2017)
Kotb JABEUR (2013-2017)

Virgile JAVERLIAC

 (2013-2014)

Fabrice

BERNARD-GRANGER (2013-2014)
Yun YANG (2012-2013)

Abdelilah

MEJDOUBI (2010-2012)
PhD
Mounia KHARBOUCHE (supervised by G. Di Pendina, R. Wacquez and J.M. Portal) (2016-2019)
Rana ALHALABI (supervised by G. Di Pendina, E. Nowak and L. Prejbeanu) (2016-2019)
Jeremy LOPES (supervised by G. Di Pendina, E. Beigne, D. Dangla and L. Torres) (2014-2017)
Erya DENG (supervised by G. Prenat and L. Anghel) (2014-2017)
Olivier GONCALVES (supervised by G. Prenat and B. Dieny) (2009-2012)
Wei GUO (supervised by G. Prenat and B. Dieny) (2006 – 2010)

Mourad

El BARAJI (supervised by G. Prenat and B. Dieny) (2007-2009)
Projects
Present
NV-APROC, ANR (2019-2023)
MISTRAL, ANR (2019-2023)
HANS, UGA (2019-2022)
ELECSPIN, ANR (2016-2020)
Formers
GREAT, H2020 (2016-2019)
MASTA, ANR (2016-2019)
NOVELASIC, CEA-nanosciences (2015)
MAD, CEA internal (2014-2018)
SPOT, H2020 (2012-2015)
MARS, ANR (2012-2015)
DIPMEM, ANR (2012-2015)
HYMAGINE, ERC Advanced grant (2010-2015)
Partners
eVaderis
TowerJazz
Singulus
Toplink Innovation
TIMA
LIRMM
IEF
TUD
University of Brasov
KIT
LETI
IM2NP
CEA Tech (Gardanne)
EMSE (Gardanne)
Greenwaves
Tiempo Secure
Starchip
CNES
Dolphin Integration
SIGFOX
Antaios
IHP
Thales TRT
University of Newcastle
EM Marin
Recent news
Publications