Overview
The activity "Health and Biology" benefits from the know-how of the laboratory in magnetic materials, spin-electronics and nanofabrication. Our efforts are mainly focused towards the fabrication of engineered magnetic micro- nano- particles or devices, prepared by top-down approaches, specially designed for biomedical applications, such as cancer cells destruction triggering, tissue engineering.
Research directions
Magnetic particles for cancer treatment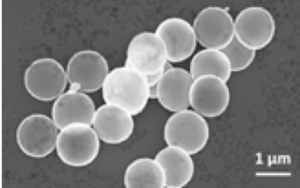 A biomedical application using anisotropic magnetic nanoparticles, aiming at the targeted destruction of cancer cells, by triggering their apoptosis / necrosis, thanks to the vibration of the particles attached to the membranes, in low magnetic fields of low frequency (~20 Hz).
Magnetic metamaterials for biological applications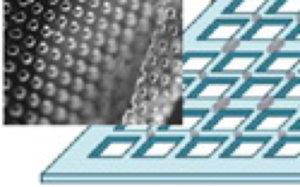 Metamaterials, whose functionality is controlled by external magnetic fields, aiming at biological applications. The materials consist of micromotors or microtweezers, comprising ferromagnetic particle pairs embedded in a polymer matrix, and magneto-elastic membranes.
The team
Former members
Post-docs
Svetlana PONOMAREVA (2017-2019)
Alain TRUONG (2015-2017)
PhD
Projects
ABIOMATER, H2020 FET Open, 2015-2018
APOTRIG, Agir PEPS Univ. Grenoble Alpes, 2015-2016
Nano-Shark, ANR P2N, 2011-2016
Cible2012, Rhône-Alpes land, 2012-2015
Partners
Biomedial research center

CLINATEC Lab/INSERM/CHU/UGA (targeted cancer cells and tumor destruction, in vitro & in vivo): François Berger (Neuro-cancerologist, tumor nano-medicine), Matthieu Dreyfus.

Biology Laboratories

INAC/SYMMES/LAN (toxicity, cancer cells, in vitro biological applications) Marie Carrière
INAC/SYMMES/CREAB (surface biochemical functionalization) Yanxia Hou-Broutin
TheREx/TIMC-IMAG, CNRS UMR 5525 (cancer cells) Bertrand Toussaint

Microelectronics technology

LTM (Nanofabrication using block copolymer template) Ahmad Bsiesy, Thierry Baron
LTM (Microfluidics) David Peyrade
Recent news
Publications
[ All | 2019 | 2018 | 2017 | 2016 ]