Overview
The team is dedicated to the evaluation of the benefits of using magnetic devices in Integrated Circuits (ICs). It is expected that integrating non-volatility in ICs could contribute to push forward the incoming limits in the microelectronics scaling. This work includes integrating the magnetic devices in standard design tools, design hybrid circuits and evaluate their performance for various applications.
Research topics
Hybrid CMOS/Magnetic design flow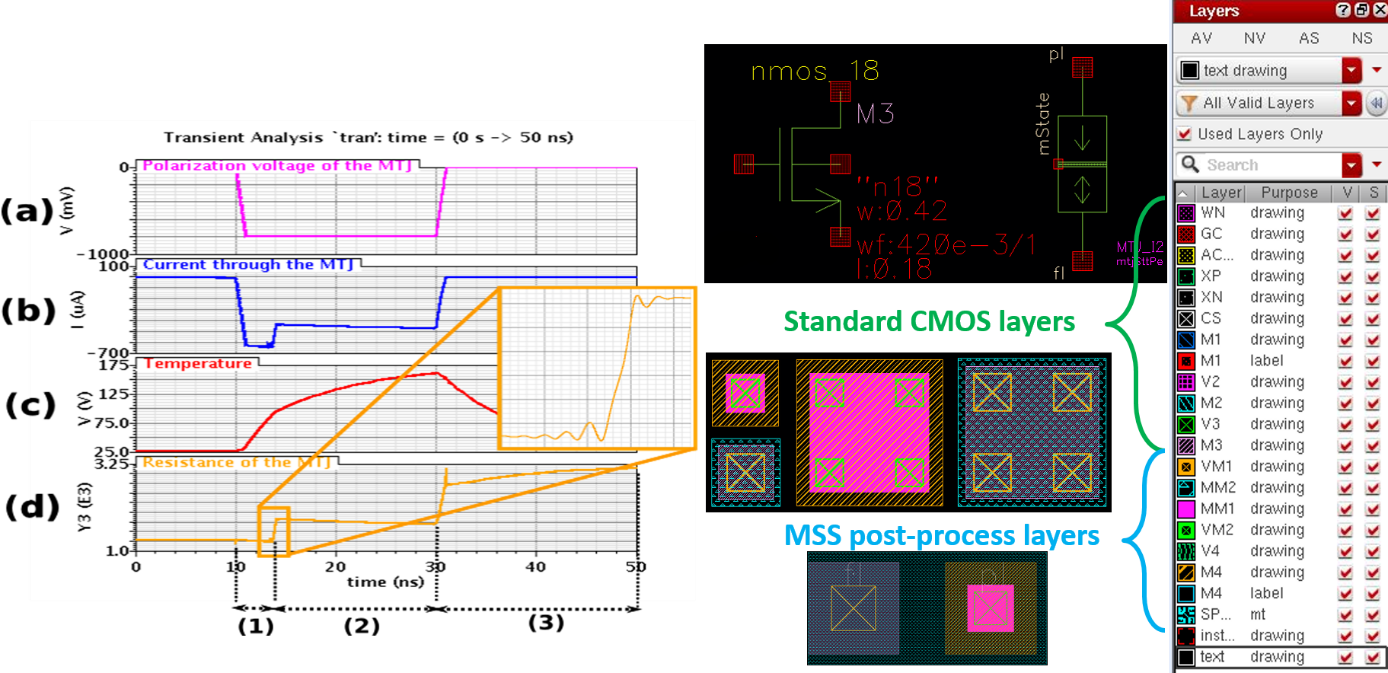 Designing hybrid circuits requires integrating the magnetic devices in the standard design flow of microelectronics. This includes compacts models for electrical simulations, technology files including the magnetic back-end and libraries of Standard Cells for digital design.
Low-power logic circuits
One issue related to microelectronics scaling is the increasing standby power, due to leakage currents. Introducing non-volatility in circuits allows easing the power gating technique, which consists in cutting-off the power supply of inactive blocks to save leakage.
Hardware security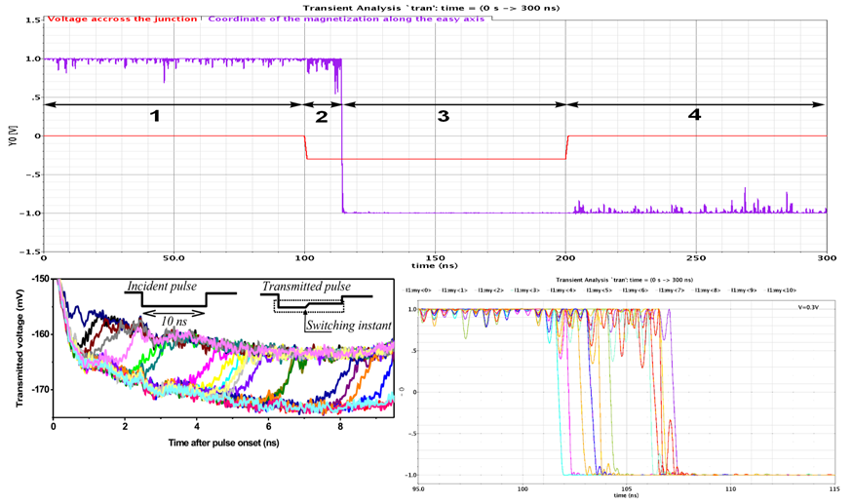 While STT MRAM can be beneficial for hardware security (taking advantage of its stochastic behavior for cryptography for instance), it also presents some specific failures mechanisms that has to be studied to take the appropriate countermeasures.
Radiation hardening for space applications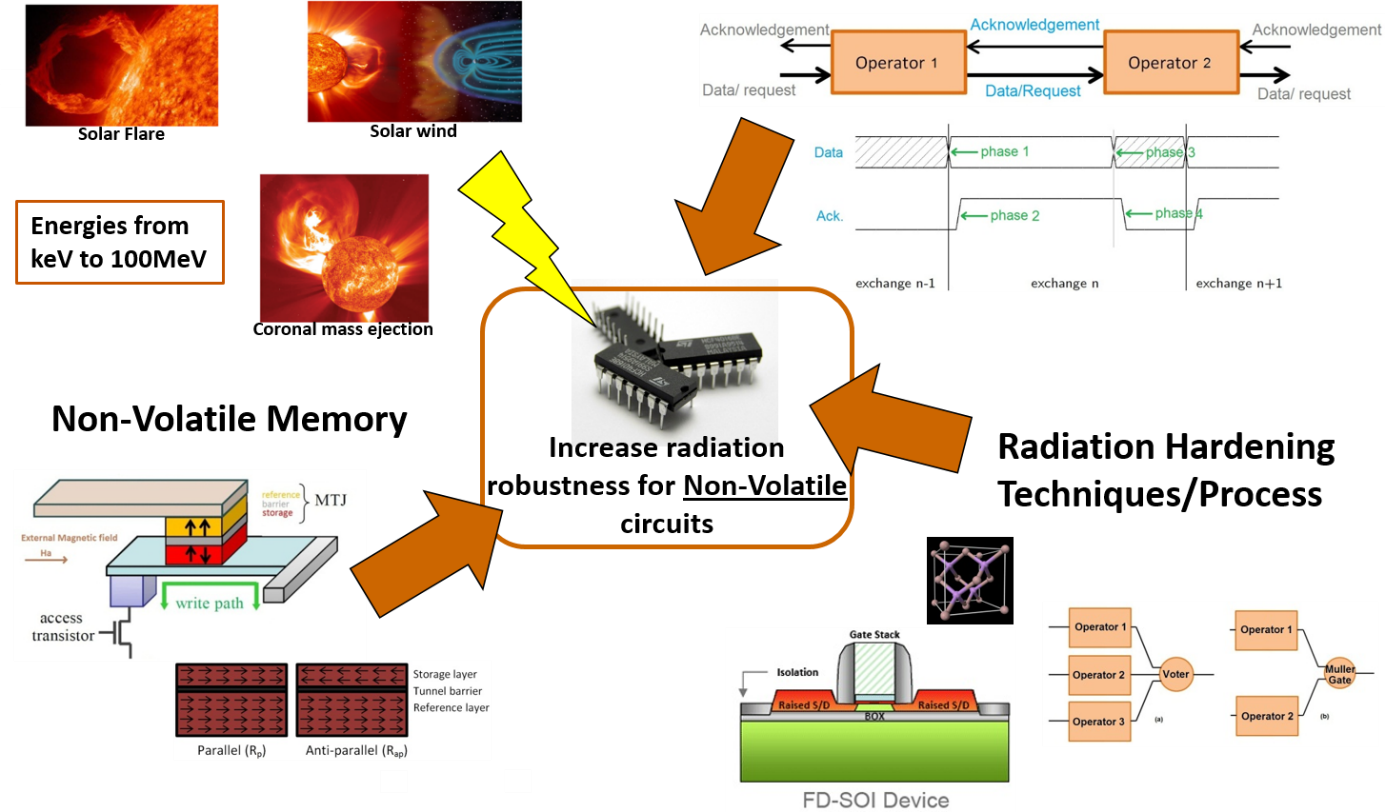 The intrinsic hardness to radiations of the magnetic devices make them a good candidate to be embedded in circuits for space applications. It can be advantageously combined with other hardening technologies or design techniques.
The team
Permanent staff

Guillaume PRENAT
guillaume.prenat@cea.fr

Grégory DI PENDINA
gregory.dipendina@cea.fr
Web page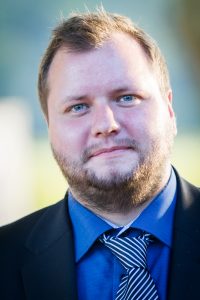 François DUHEM
francois.duhem@cea.fr
Post-docs
Kotb JABEUR
Pierre VANHAUWAERT
PhD
Mounia KHARBOUCHE
Rana ALHALABI
Jeremy LOPES
Projects
GREAT, H2020 (2016-2019)
ANR MASTA (2016-2019)
Partners
eVaderis
TowerJazz
Singulus
Toplink Innovation
TIMA
LIRMM
IEF
TUD
University of Brasov
KIT
LETI
IM2NP
Recent news
Research engineer tenure track open position (filled) (July 28th, 2016)
SPINTEC has developed over the last decade many tools for integrating spintronic devices into standard CMOS microelectronics : design tools have been developed and elementary proofs of concept circuits have been built and tested. The integration ...
GREAT – A H2020 ICT project at SPINTEC (June 30th, 2016)
Overview GREAT (European H2020 project) was accepted at the Summer 2015. Its kick-off meeting took place at SPINTEC in Grenoble on February 22nd-23rd 2016. The project aims at developing magnetic stacks able to equally perform memory, radio-frequency ...